Online Technical Support Team 24*7*365 Available
If you have a question that is not answered kindly contact our Technical Support department directly.
Support team offers customers the best support experience in the industry. We provide comprehensive support.
Our Technical Support specialist staff provides you 24x7 supports.
For more advance queries just contact to our technical support staff regarding Software. Your complaints, suggestions or cooperation intents about PST to NSF conversion software or service are welcome at any time through following emails.
If you have any technical queries in your mind i.e. "How-to". Our technical support team always provides you online answers to your technical questions about the software.
Our technical support team always willing to lend a hand. Each & every clients are the valuable assets for Software. At here, your privacy is valued. We are here to handle all your queries or difficulties related to sales, support & general queries related to software.

Click on the above live chat button to start live chat online.

Call Us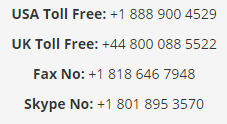 Mail Us